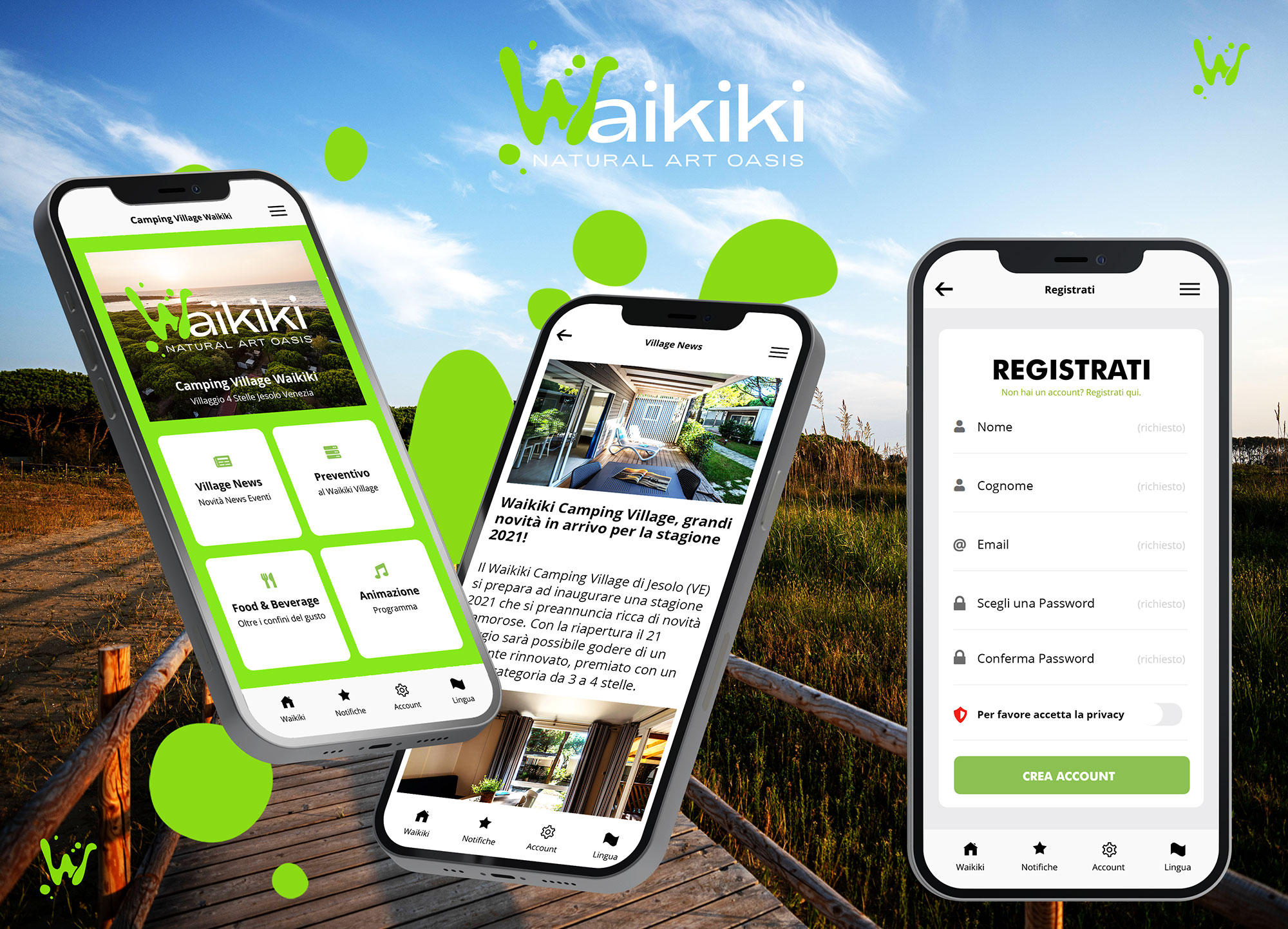 App to you: il Waikiki Village sbarca sul tuo smartphone!
Tutto il mondo del Waikiki Village di Jesolo finalmente a portata di smartphone. È disponibile sull'App Store (per i possessori di iPhone) e sul Play Store di Google (per gli user di Android) l'app Waikiki Village per entrare nel mondo della nostra Natural Art Oasis. Dalla prenotazione al soggiorno, con l'app riceverai in tempo reale gli aggiornamenti per vivere con noi la tua vacanza a 4 stelle nella Natura a Jesolo.
Con la registrazione potrai accedere all'area privata con servizi esclusivi per te. Durante il tuo soggiorno potrai ricevere comodamente sul tuo cellulare tutte le notifiche per essere aggiornato in tempo reale. In aggiunta alle news sul Villaggio e su Jesolo riceverai le news personalizzate con gli update dalla reception, dal ristorante, dal nostro team di animatori. Scarica l'app e iscriviti subito!
App and down(load), il centro del tuo mondo in vacanza
Il primo passo è scaricare sul tuo smartphone l'ultima versione dell'app:
Stai programmando la tua vacanza al Lido di Jesolo? Vuoi un preventivo dettagliato per il tuo soggiorno in famiglia, in coppia o con amici al Waikiki Village, completo di tutte le soluzioni più adatte alle vostre esigenze? Vai nella sezione preventivo e inserisci le date previste di check-in e check-out, il numero di persone che alloggeranno e l'età.
Sei già ospite del nostro Villaggio? C'è tutto un mondo di informazioni da scoprire per te!
Fitness in piscina con una sessione intensiva di hydrobike? Sessione di yoga in gruppo sulla spiaggia con saluto al sole? Sull'app avrai sempre a disposizione il programma aggiornato delle attività di sport e intrattenimento del nostro team di animatori.
Non perdere neanche uno dei servizi a te dedicati. Controlla sull'appo gli orari di apertura e chiusura delle piscine, del supermarket, del ristorante, della reception, ecc.
Visualizza e scarica il menù à la carte del nostro ristorante e scopri tutte le proposte gourmet del nostro chef.
Il Lido di Jesolo e le sue mille attrazioni turistiche. Con la sezione "Jesolo Tour" l'app Waikiki Village ti guida alla scoperta di tutto il divertimento che può offrirti la città.
Attiva le notifiche per restare aggiornato! Registrandoti sull'app puoi scegliere il tipo di news da ricevere comodamente sul tuo smartphone.
L'app è disponibile in italiano e in inglese. Presto arriverà anche la versione in tedesco. Stay tuned!