Alessio B. / Street Artist
BIOGRAFIA
Nato a Padova (Itֹ) Alessio-B è uno street artist che crea scene uniche, spesso con un messaggio di pace e di amore.
Tutto è iniziato durante gli anni di studio di architettura a Venezia e ai numerosi viaggi in Europa ,tra Parigi e Londra, dove viene a conoscenza delle opere di Blek Le Rat e Banksy. Non gli ci vuole molto che questi influenzeranno il suo stile e la volontà di intraprendere la strada del mondo dell'arte di strada.
Alessio-B ha collaborato ed esposto il suo lavoro con numerose gallerie d'arte in Italia e in Europa e resto del mondo, vantando anche collaborazioni con brand e marchi importanti.
2013 Biennale di Venezia – evento Back2Back dedicata all'arte di strada.
2014 Gallerie LaFayette PARIS – Presentazione Trolley Roncato by Alessio-B
2014 Gallerie Barbette PARIS (FR) – Personale
2014 Gallerie NUNC Grenoble (FR) – Personale + presentazione libro
2014 WATH_AAH ! TAKING BACK THE STREET New York (USA) – Colletiva
2015 URBAN NATION "CUT IT OUT" Berlino (GER) – Collettiva d'arte
2015 GRAFFIK GALLERY Londra (UK) – Collettiva d'arte
2015 NICOLE HENRY ART GALLERY – Palm Beach FLORIDA (USA) – Collettiva
2015 BUGNO ART GALLERY Venezia (IT) – Personale
2015 RAKTING ART GALLERY (JAPAN) – Collettiva d'arte
2015 Gallerie V.SMAGGHE Paris(FR) – Personale
2015 Gallerie NUNC Paris (FR) – Personale
2017 RENNES (FR) "ILOVERENNES" Personale
2017 URBANWALLS Roma (IT) Collettiva d'arte
2017 LOLLAPALOOZA URBAN FESTIVAL BERLIN
2017 URBAN NATION – MUSEUM STREETART BERLIN (permanent art work at the museum)
2019 VALVERDE GALLERY – Bruxelles
2019 ART FAIR ELISEE Paris
2019 Biennale StreetArt "SUPERWALLS" Padova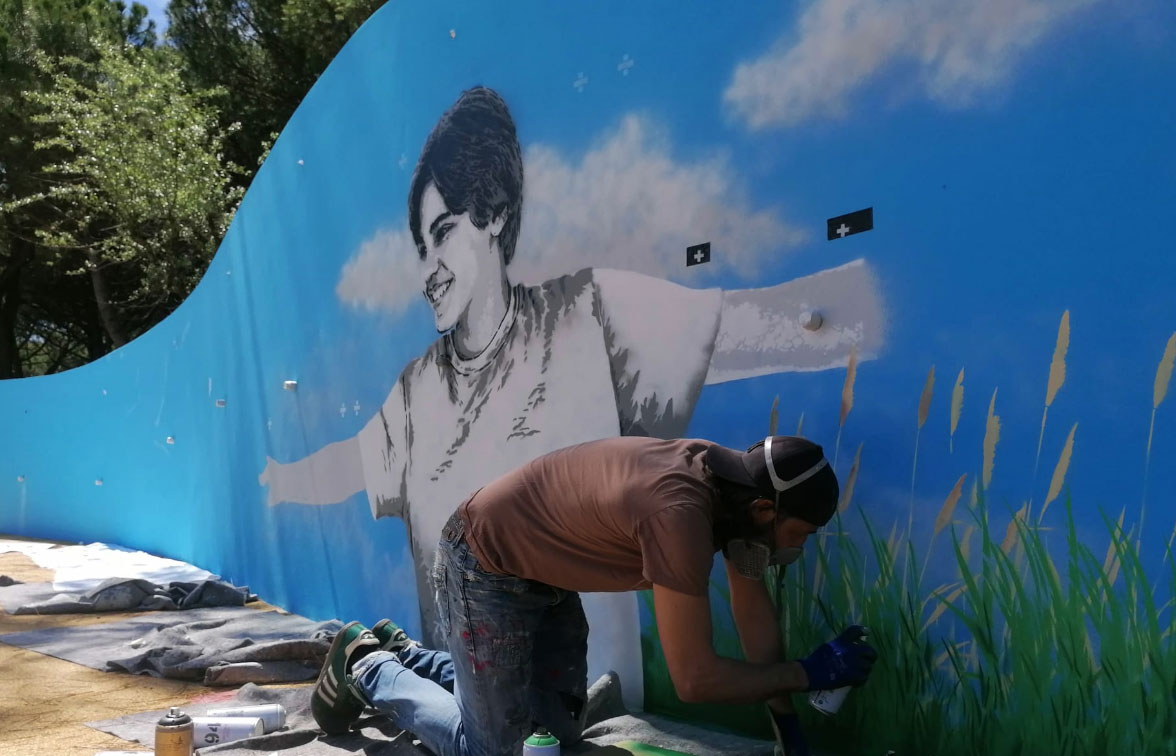 Nell'area piscine, oasi di relax, benessere e gioco, la curva sinuosa del muro delle docce diventa una quinta per "The World is Ours", il murales di Alessio-B.
Pensiero dell'artista sull'opera:
L'opera rappresenta l'urgenza ,un monito ,di proteggere e salvaguardare il nostro pianeta…che purtroppo nell'ultimo periodo stiamo "distruggendo".
I ragazzi, la loro generazione, ha l'opportunità di ristabilire un nuovo equilibrio… "Il mondo è un bel posto e per esso vale la pena lottare" – E.Hemingway
Waikiki Village, scopri le novità in tempo reale nella sezione news.
Il Waikiki Village presenta le novità della stagione 2023: i nuovi habitat Kiki TicToc e Kiki Pool.

Mare, relax e natura oppure viaggio alla scoperta delle meraviglie dell'arte? Scegliendo di passare le vacanze in una località strategica possiamo evitare questo aut aut e godere di un soggiorno ricco e rilassante allo stesso tempo. A meno di un'ora di