Alessio B. / Street Artist
BIOGRAPHY
Born in Padua (IT) Alessio-B is a street artist who creates unique scenes, often with a message of peace and love.
It all started during his years of architecture study in Venice and his numerous trips to Europe, between Paris and London, where he gots to know the works of Blek Le Rat and Banksy. It doesn't take long for them to influence his style and his willingness to take the road to the world of street art.
Alessio-B has collaborated and exhibited his work with numerous art galleries in Italy and in Europe and the rest of the world, also starting collaborations with influential big brands.
2013 Venice Biennale – Back2Back event dedicated to street art.
2014 LaFayette PARIS Galleries – Presentation Trolley Roncato by Alessio-B
2014 Gallerie Barbette PARIS (FR) – Personal
2014 NUNC Galleries Grenoble (FR) – Personal + book presentation
2014 WATH_AAH! TAKING BACK THE STREET New York (USA) – Collective
2015 URBAN NATION "CUT IT OUT" Berlin (GER) – Collective
2015 GRAFFIK GALLERY London (UK) – Collective
2015 NICOLE HENRY ART GALLERY – Palm Beach FLORIDA (USA) – Collective
2015 BUGNO ART GALLERY Venice (IT) – Personal
2015 RAKTING ART GALLERY (JAPAN) – Collective
2015 Gallerie V.SMAGGHE Paris (FR) – Personal
2015 NUNC Paris Galleries (FR) – Personal
2017 RENNES (FR) "ILOVERENNES" Personal
2017 URBANWALLS Rome (IT) Collective
2017 LOLLAPALOOZA URBAN FESTIVAL BERLIN
2017 URBAN NATION – MUSEUM STREETART BERLIN (permanent artwork at the museum)
2019 VALVERDE GALLERY – Brussels
2019 ART FAIR ELISEE Paris
2019 Biennale StreetArt "SUPERWALLS" Padua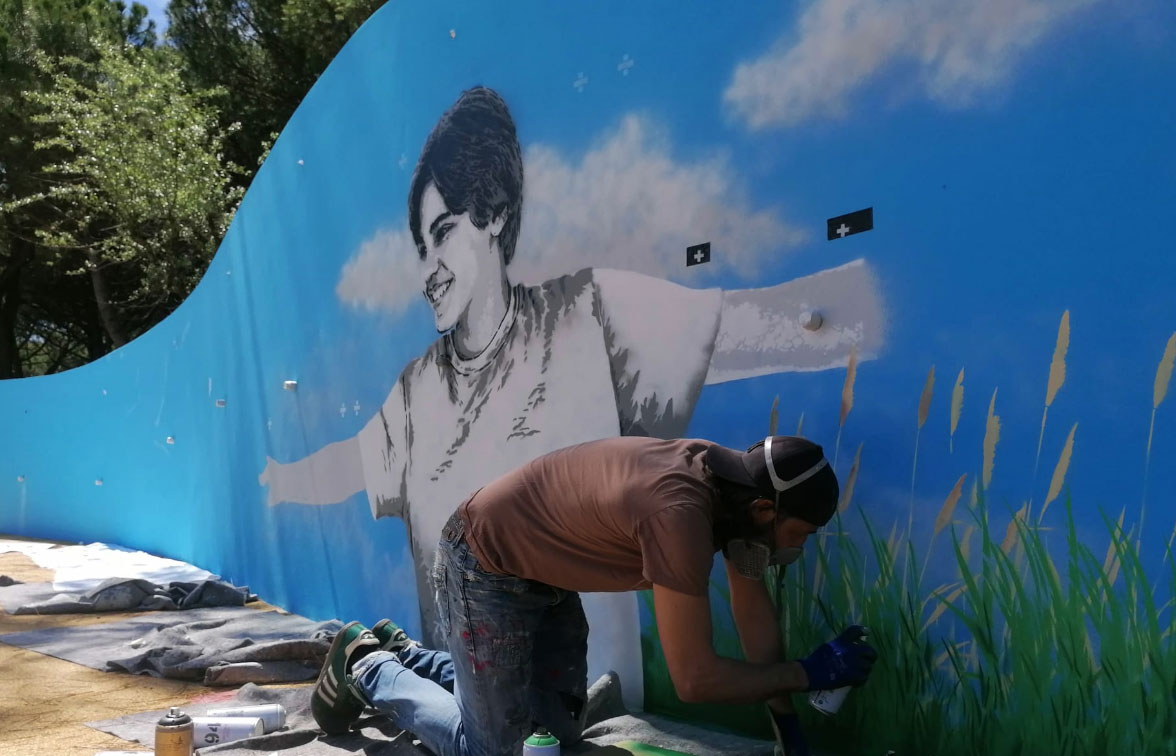 Young people, their generation, have the opportunity to restore a new balance…" The world is a fine place and worth fighting for" – E. Hemingway
In the swimming pool area, an oasis of relaxation, wellness and play, the sinuous curve of the shower wall becomes a backdrop for "The World is Ours", the mural by Alessio-B.
Thought of the artist on the work:
The work represents the urgency, a warning, to protect and safeguard our planet… which unfortunately we have been "destroying" in the last period.
All the news from the Waikiki Village world. Discover the updates in real time in the News section.
Goodbye summer, see you soon! The summer has flown by at Waikiki Village. The music, the smiles, and the experiences we shared together still resonate in our minds. A special thank you goes to all guests who chose to spend their holidays

Waikiki Village in Jesolo offered an extraordinary experience for Ferragosto, thanks to three exceptional events. The day started with an engaging treasure hunt that brought together young and old in a challenge of clues and adventures. In the afternoon, the

Summer is near and the Waikiki Village season has restarted with particular attention to taste and good food. At the Kiki's restaurant, which directly overlooks the village's lagoon, you can taste specialties made for all tastes with an eye to