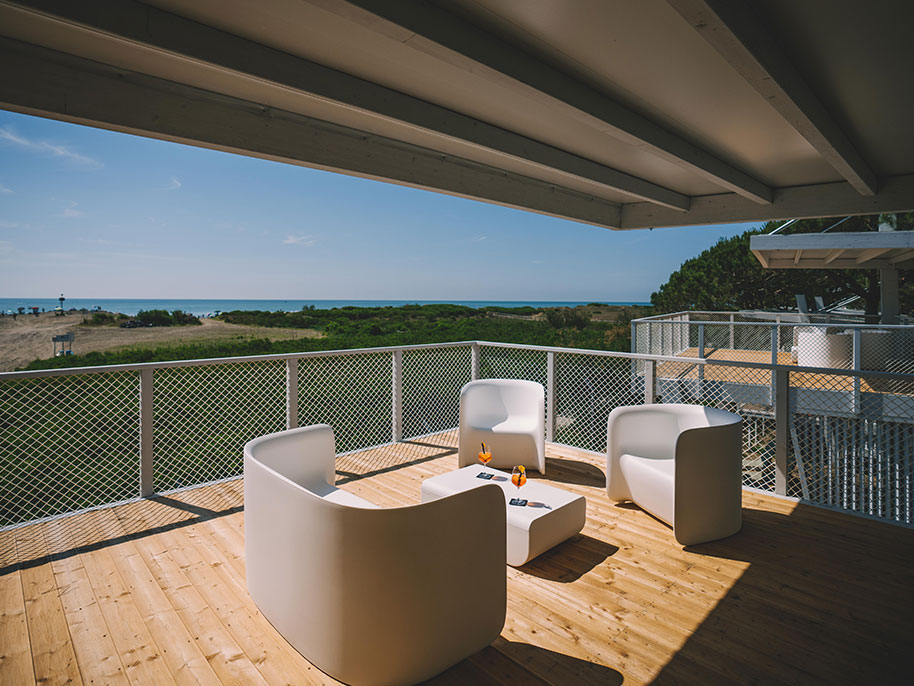 A spacious mobile home with an stylish design, a veranda on two levels, to rise between the foliage of the trees and immerse yourself in the surrounding nature to enjoy a unique view: between the dunes and the sea, you can see the sun rise in a natural oasis. The Mobile Homes KIKI AIR are 40 square meters and can accommodate up to six people. They have a double bedroom, a second bedroom with two single beds and a third raised bed, a fully equipped kitchen with induction cooker and fridge with freezer, a living area with sofa bed, two bathrooms with shower box, one with a bidet. Two televisions of 32 and 39 inches, dishwasher, microwave oven and electric kettle. The large furnished outside structure consists of two floors: the 26 square meters of the ground floor and an elevated panoramic terrace of 20 square meters. The price includes air conditioning, bed linen, blankets, and parking space.
FIND OUT THE MOST WANTED ACCOMODATIONS IN WAIKIKI VILLAGE
There is a whole world of unique places in Waikiki Village. Find inspiration for your next vacation and choose the accommodation that suits you best.
All the news from the Waikiki Village world. Discover the updates in real time in the News section.
The Waikiki Camping Village in Jesolo (VE) is about to inaugurate a 2021 season that promises to be full of sensational news. With the reopening on May 21 guests will be able to enjoy a renewed environment, awarded with a