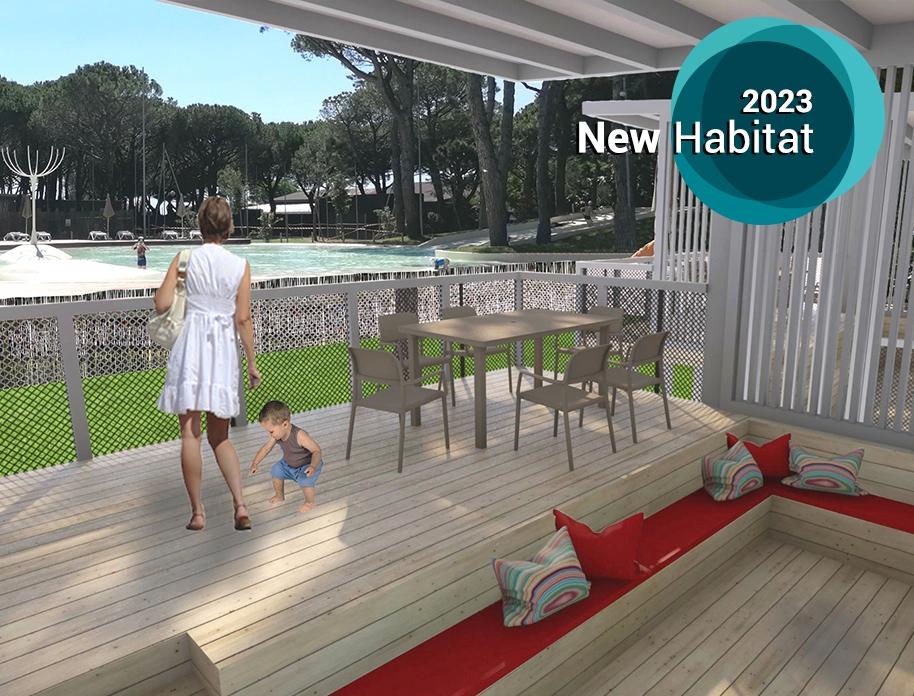 Season 2023, the Open Air Habitats not to be missed
There are many new arrivals for the 2023 season and the experience will be even more engaging thanks to the new habitats of the Waikiki Village, a "Natural Art Oasis" where art and nature merge to gift guests a relaxing and stimulating summer vacation. The new homes Kiki Pool and Kiki Toc Toc fully reflect the philosophy of the location. The former overlook the "lagoon", a state-of-the-art swimming pool inspired by the classic landscapes of the Jesolo area.
A cloud of nebulised water and the "Tree of Mist", a design structure designed by architect Simona M. Favrin which alludes to the mists of the Jesolo lagoon, will delight the senses of those who decide to relax, sunbathe or simply look out onto the terrace of these 32 sqm mobile homes that can accommodate up to six people and have large terraces on two levels. They are comfortable and functional even for those with small children who would like to watch them play in the pool.
A total immersion in the greenery can be enjoyed, however, by staying in the new habitat Kiki Tic Toc, a 32sqm mobile home that can accommodate up to six people. The close contact with nature makes the experience perfect for running away from the everyday routine without sacrificing comfort. A stone's throw from the sea and the beach, these habitats are designed according to the most innovative rules of design and technology.